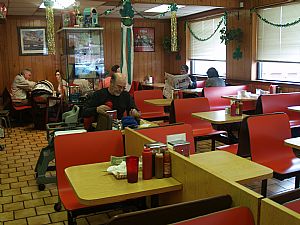 Dixie Pig is southern Virginia's leader in barbecue, conveniently located at 817 Memorial Boulevard in Martinsville.
We can provide barbecue by the pound for your next party or get together. We will even fill your crock pot with barbecue so you can carry it home to serve later.
Although well-known for our BBQ, many customers regularly enjoy our delicious hot dogs, with homemade chili, slaw and french fries.
We are open for breakfast, lunch and dinner to make sure you have delicious food the entire day. For breakfast, we offer breakfast plates and sandwiches. All of our plates are served with fries, toast and jelly and the portions will satisfy the hungriest of appetites. Try a sandwich or one of our short order plates for lunch. For sandwich choices, try grilled cheese, chicken, fish or chuckwagon. Side items include; slaw, tossed salad, french fries, onion rings and hushpuppies. Dinner offers choices of ribeye steak, shrimp, chicken plus many other items. No meal is complete without one of our tasty desserts. See you soon!
Opens: 8:00 AM
Closes: 9:30 PM